Tackling New Frontiers
It's time for another client spotlight. This time we're speaking to Michael Abrahams about his career and the decisions that lead to the creation of his firm New Frontier Legal.
Michael, thank you for joining us today. Perhaps we could start with you telling us why you decided to start your own law firm?
About two years ago, I was looking for the next new challenge in my career as I had a good sense that I did not want to continue working for other people, at least not in the capacity I had been up until this time. As a commercial, corporate lawyer, you need some runs on the board before you can go out on your own. So, the early thinking was that I wanted a new challenge, I wanted to start my own business, and I wanted a degree of flexibility and autonomy. I'm still in that early phase of my business, working out how to attract and win clients, and so far, it is going well. You do need to pivot, move when the work shifts, and pick it up quickly. It can tend to be a bit of a feast or famine in this game.
What sort of work do you like doing?
I really like helping people solve problems before they happen. Preventing people ending up in a dispute, or at least pre-empting or being aware of the challenges and the legal and commercial solutions ahead of time. I have covered a lot of ground in my career, and I am still learning, and at the moment the type of work I like doing is primarily:
business or share sales (big or small)

shareholders agreements

company, business and trust structures and restructuring
Having said that, I enjoy all types of commercial and transactional advisory work, contract reviews, drafting and negotiation, and if I can't help, I will point clients in the right direction, so they get the best outcome possible.
How did you come up with the name New Frontiers Legal?
New Frontiers Legal came to me while walking the dog down by the beach. I was considering what I wanted to do and where I wanted to go, so the idea of New Frontiers was born. Often when I sit down with a client, I can use it as a nice introductory segue. "This is my new frontier, what's yours?" which dovetails into what work we can do together? How can I help them explore that opportunity or help them move into that new frontier?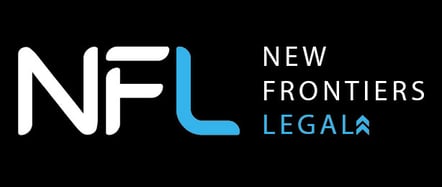 Tell us about your background. How did you get to where you are today?
I started my career at NSW Treasury as I had a double degree in Commerce and Law. In about 2013, the door to studying law was closing, so I decided to push the door open and completed my College of Law. I joined a boutique law firm on Hunter Street in the City, where we focused on transactional M&A work for the higher end of town. I then moved to a National Firm and worked in their corporate commercial team on a broad mix of commercial work. From there, I joined the Department of Justice, where I spent a year in jail, and by that, I mean I worked with a private prison contractor for whom we ran contracts, asset transfers and lots of other exciting areas of work involving, for example, biosecurity, firearms and sniffer dogs. It was a great experience because access to this type of work has made me the lawyer I am today. I still chase that breadth of work, that variety, and I know I have the skills and experience to find the answer that ultimately gets the best result for my client. That's the value proposition that I bring to the table. It has been quite the journey, and I have benefitted from moving around in my career.
Is New Frontiers Legal just you?
Yes, it is just me, and I work from a serviced office in the City. I have a wide network of professionals that I work with, and I intend to employ and mentor some young lawyers in time. I am using mattero as my practice management software not only because it is a cost-effective product, but it does everything I need, and it provides the right scalability as I bring others on board over time. With Practice Management Systems, there are about 4 or 5 things that they all do, and then there are the 'bells and whistles' that vendors offer as various sweeteners. I only needed those 4 or 5 things, and that is where mattero met my requirements. Reflecting on my experience with mattero, I don't think I am fully utilizing it. I'm sure there are things that I haven't implemented yet, but the assistance and feedback I have received from the team have been fantastic. It's a sign of a company that is responsive to its clients and willing to adapt and innovate. It's refreshing to come across a company with a more collegiate approach to doing business, is a bit more responsive to its client's needs, and is willing to pick up the phone and support its clients.
What are some of the challenges you face starting your firm and building your customer base?
It is an interesting question, and I think I'm too early in my journey to articulate an answer. When I started this journey last year, I probably bit off a bit more than I could chew. As soon as you are out on your own, you must spend a bit of time on business development, speak to various people, and hopefully come out with a trickle, if not a torrent of good quality work. That process takes time, and then it is a constant juggle of have I too much work or too little? It's an interesting question which my response will change over time as I build maturity in my brand, client base, and network. It has been challenging through Covid. Covid has been a blessing and a curse because it has given us the time to re-assess, reflect, and think through what we want and why? I would say that from June this year, I have found my feet and good momentum. But it takes time.
How did you find mattero?
I was referred to mattero by a friend when I attended the FMRC Practice Management course. He had already started his firm and was a little bit ahead of me in the process, and he recommended mattero. I was looking at another market-leading PMS, but they did not understand my requirements or needs as a start-up firm, and they weren't interested in having that conversation. So, I looked at mattero and a couple of other options, and it was the fact that mattero was receptive, open and willing to provide a light touch at the start that was the deciding factor.
Are you involved in any activities outside of practising law?
I started scuba diving in recent years and quickly got to about 50 to 60 dives locally. It then became a hobby where I looked for overseas adventures and managed to dive the Cenotes in Mexico and the Bay of Pigs in Cuba, where I saw a whale shark which was a fantastic experience. It's these kinds of adventures and experiences that make me get out of bed and do what I do because that's what makes life worth living.
Do you have any words of advice for lawyers who are setting up their law firm in the post covid world?
I would say that if you can do this during Covid, you can do it any time. Be patient because it won't all happen at once. And be OK... if it doesn't all happen at once. Celebrate the good times and appreciate the bad and learn from them. Surround yourself with the right people, talk to them; there is always something to learn.